Out Of Stock
Discraft Chainstar - Portable
The Discraft Chainstar Portable disc golf basket is free standing. It has a round metal base with an integrated industrial strength wheel that makes moving it around a breeze. Great for back yards, temporary courses and adding extra holes to a course for tournaments and special events.
Features of the Chainstars: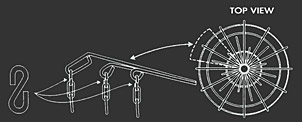 * 24 chains hang in a 3 row staggered formation which optimize catching ability and reduce bounce outs and cut through.
* Outer row of chains - 12 outer chains on a 'sliding chain mechanism' slow discs down.
* Middle row of chains - 6 midway chains.
* Inner row of chains - 6 inner chains prevent high velocity discs form bouncing off the central pole.
* Heavy duty "S" hooks allow freer chain movement.
* Top width of 23 inches and a vertical target zone of 21 inches - a bigger sweet spot than some other baskets.
* Trapper Basket - the welding is configured to make sure that discs that hit the bottom of the basket stay there.
* PDGA approved for championship level tournament play.
* Made from extremely durable hot dipped galvanized steel to last a lifetime.
* Available in:
Basic - cement into ground for permanent placement.
Removable - An anchor (installation tube) with an attached locking tab is cemented directly into the ground. The pole with an attached locking collar fits into the anchor and then the tabs lock together. The entire basket and pole can then be removed from the sleeve and inserted into additional sleeves (purchased separately) for alternate pin placements which add interest and challenges to your disc golf course.
Stand Alone - has base with wheel for portability.
Multiple basket rates are available! Call 785-258-2494 or email [email protected] to get a quote.
The shopping cart will not calculate the shipping correctly for even one basket since they are packaged in multiple boxes plus the pole(s).
Contact us for an accurate shipping quote. Thanks!
If you are ordering this basket along with other items, just order the other items and call us about the basket.
Stock:

Out Of Stock

Model:

Basket - Discraft Chainstar - Portable

Weight:

75.00lb
Discraft