Out Of Stock
Important Information About Disc Selection
Please note that the disc pictured may not be the disc you receive. The exact run and stamp design may vary. We do our best to accommodate your disc selection based on the information you provide. Thank you!
Discmania TD2 - S Line
The Discmania S Line TD2 (Previously called Fever) is an understable turning distance driver, the most understable (-4 high speed turn) disc in Discmania's line-up. It is a reinvention of the versatile Rush TD. The Fever is best suited for anyone seeking to get more distance with less effort. The low rim depth makes this disc easy to release therefore gaining distance and accuracy among women, beginners and those with less power. More powerful players will find various ways to work wonders with the Fever's unparalleled turn. Packed with a great glide, the Fever is easy to throw far with a little effort. Intermediate to pro players will find it awesome for rollers and long turning shots and one of the best out-of-the-box roller discs in the market. Beginner friendly disc golf driver. Similar to the Innova Monarch. Blue 165-169g, Orange 170-172, Yellow or Peach 173-175g.

It is a great choice for maximum distance drives for beginners, rollers and long turnovers for advanced players.
Speed 10, Glide 5, Turn -4, Fade 1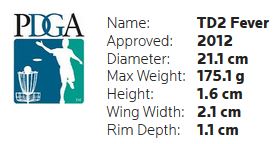 S-Line plastic offers a great grip to durability ratio, wears down gradually for just fine-tuning the flight path of the disc, discs are a bit less overstable than their C-Line counterparts.
Stock:

Out Of Stock

Model:

Discmania S Line TD2 Fever

Weight:

0.51lb
Discmania