Discmania FD3 - S Line Swirl - Simon Lizotte Doom Bird III
This Discmania S Line Swirl FD3 is a Simon Lizotte Doom Bird III Signature Disc. It is the third edition of one of Discmania's most popular releases. For the last two years the Doom Bird has become a staple in disc golf bags around the world. With an overstable flight that can handle the power of one of the strongest throwing disc golfers, the Doom Bird III has learned from the past to become an even stronger version of itself.
Flight of the Doom Bird III
With a little more give and flex in this run, it is very comfortable to hold and throw. You can really find a great grip which translates to increased confidence on the teepad. We've also seen a little more glide out of this run of Doom Birds which can add some extra distance that we all search for. You'll find the same great high speed stability that can handle the power and a predictable fade which makes this one of the most useful fairway drivers on the market.
Each disc sold benefits Simon in his touring efforts across the globe!
The Discmania S Line Swirl FD3 is an overstable fairway driver that can be appreciated and trusted in all conditions. It is Discmania's most stable fairway driver. The FD3 features an aerodynamic low profile and a very comfortable concave lower rim. It has flight numbers very close to the PD (Power Driver) except with a speed of 9. This disc golf driver can be used for everything from touch sidearms that get you out of trouble to full power drives off the tee.
It can be used as a utility driver for specific conditions like strong headwinds and cutting tight corners. Players with more arm speed can expect a straight line for a longer time before the inevitable fade. Skilled players will be able to do tricky throws such as skip shots, upside-down shots, and flex shots. The FD3 is especially useful in windy conditions.
It is a great choice for beginners and advanced players, headwind drives, hyzer shots, flex shots.
Speed 9, Glide 4, Turn 0, Fade 3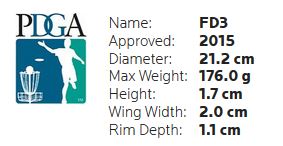 S-Line plastic offers a great grip to durability ratio, wears down gradually for just fine-tuning the flight path of the disc, discs are a bit less overstable than their C-Line counterparts.
About Color and Weight Availability - This model may not be available in all colors. Likewise, each weight range may not be available in all colors. Therefore we ask you to list and prioritize your color preferences and to give us guidance if the color or weight range you want happens to not be available. Feel free to contact us if you need more specific info.
Stock:

In Stock

Model:

Discmania LE S-Line Swirl FD3 - Simon Lizotte Doom Bird III

Weight:

0.51lb
Discmania