This Discmania S-Line Swirl FD3 is a Simon Lizotte Doom Bird II Signature Disc. With the Doom Bird II ready to control the skies, there's a rumbling in the distance and electricity in the air as Discmania looks to keep the best of the best coming for the Year of the Shield. Featuring the very cool Doom Bird II stamp, it will likely be a popular collector item for years to come.
These 4th run S-Line FD3s were produced in mid 2018 with a bit more dome than previous versions. With high speeds, it will give you the forward pushing glide you need.
*Please Note: Even though this product states "Swirl", not every disc is guaranteed to have a swirl appearance. Some will have more swirl than others.
Each disc sold benefits Simon in his touring efforts across the globe!
The Discmania S-Line Swirl FD3 is an overstable fairway driver that can be appreciated and trusted in all conditions. The FD3 features an aerodynamic low profile and a very comfortable concave lower rim. It was initially release in vibrant C-line material that endures wear very well and provides an awesome grip. Despite having flight numbers very close to the PD (Power Driver), the FD3 offers a noticeably more overstable flight pattern. This disc golf driver can be used for everything from touch sidearms that get you out of trouble to full power drives off the tee. You can always rely on FD3's long but powerful and forward-penetrating fade.
It is a great choice for beginners and advanced players, headwind drives, hyzer shots, and flex shots.
Speed 9, Glide 4, Turn 0, Fade 3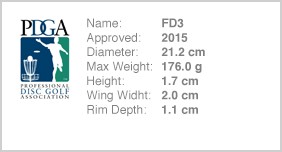 S-Line plastic offers a great grip to durability ratio, wears down gradually for just fine-tuning the flight path of the disc, discs are a bit less overstable than their C-Line counterparts.
About Color and Weight Availability - This model may not be available in all colors. Likewise, each weight range may not be available in all colors. Therefore we ask you to list and prioritize your color preferences and to give us guidance if the color or weight range you want happens to not be available. Feel free to contact us if you need more specific info.