The Discmania S-Line GM Gremlin (Greater Mid-range) is a slightly overstable mid range disc golf driver. It is unique in that it actually falls between a mid range and fairway driver. You have seen this disc before as it was a staple in the Innova line for many years. Discmania added this disc to their line up as they felt it was a great fit for their product line.
Available in S-line plastic. Weights 165-175 grams.
Speed 5, Glide 4, Turn 0, Fade 2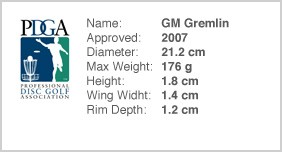 What others have said about it:
"Just picked up the GM because I wanted something shorter than a teebird but with the same kind of flight. Holy cow is this disc exactly what I was looking for. I can throw it hard on holes that I would blow past with my teebird and it sits right at pin high. This disc was definitely a pleasant surprise, awesome work."