Out Of Stock
Discmania DD - P Line
The Discmania P Line DD (Previously called Hysteria) is a stable distance driver. It is the first distance driver Discmania produced. It has the reliability of Innova's Roc but it flies a lot further. The Hysteria disc golf driver provides control with long distance. It offers great accuracy when throwing both hyzer and anhyzer shots. Steady, predictable glide is one of this disc's key features.
It is a great choice for long drives, hyzer shots, flicks, and advanced and pro players.
Speed 11, Glide 5, Turn 0, Fade 2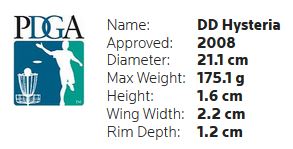 P-line - great feel and added glide, grippy, breaks in to reveals new features, typically a bit more understable plastic type compared to S- and C-line.
About Color and Weight Availability - This model may not be available in all colors. Likewise, each weight range may not be available in all colors. Therefore we ask you to list and prioritize your color preferences and to give us guidance if the color or weight range you want happens to not be available. Feel free to contact us if you need more specific info.
What others have said:
"The C-line DD does what it's name says, it's a Distance Driver. This disc is probably the most comfortable distance driver for intermediate to advanced players. The rim is not a thick as other distance drivers what makes it great for those with smaller hands too. With great speed and good, reliable stability, the DD is for sure worth a try if you're looking for a fast, consistent distance driver." - European Champion Simon Lizotte
"I picked up a first run s-line dd a while back. crazy d….good disc to have in the bag…"
"I absolutely love my hysteria! first disc I ever bought and nothing has compared since. perfect s-line, the only bad thing I have to say about it is it's a little flimsy and will flop down pretty fast if it hits a tree or branches."
Stock:

Out Of Stock

Model:

Discmania P Line DD Hysteria

Weight:

0.51lb
Discmania