The Discmania P-Line CD (Craze) is a stable to slightly overstable control distance driver. It has good range and great reliability in most wind conditions. It can be thrown to fly straight for a soft hyzer or long turnover shots. The CD is easy to throw, versatile and reliable. Beginner friendly disc golf driver. It is very similar to the Innova SL.
Speed 10, Glide 5, Turn -1, Fade 2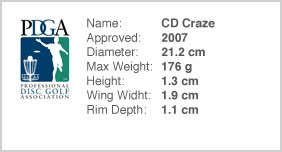 P-line - great feel and added glide, grippy, breaks in to reveals new features, typically a bit more understable plastic type compared to S- and C-line.
About Color and Weight Availability - This model may not be available in all colors. Likewise, each weight range may not be available in all colors. Therefore we ask you to list and prioritize your color preferences and to give us guidance if the color or weight range you want happens to not be available. Feel free to contact us if you need more specific info.
What others have said:
"The Discmania CD in the P-Line plastic will offer all the characteristics of the S-Line CD with a straighter carry throughout the flight with a straighter finish at the end. A great disc for beginner to amateur players looking to get more speed and distance out of their throws with consistent forward carry to keep them in the middle of the fairways." - World Champion Avery Jenkins
"Over the past few weeks my S-Line Craze has become my go-to driver without a doubt whenever I'm in the woods or need a shot between a mid and long bomb. It feels great in my hand and seems to release really smoothly. When I need a bit more juice than my Fiend, I go for my Craze."
"...Reminds me of Discraft's Avenger in flight pattern but much more versatile and easier to control. GREAT DISC!!"
"...I have 2 in my bag for smooth anhyzer shots and another one for rollers (pretty worn out). Couldn't cope anymore without this disc!"