The Discmania P-Line CD (Craze) is an all purpose control driver that is straight and slightly overstable. It has good range and great reliability in most wind conditions. It can be thrown to fly straight for a soft hyzer or long turnover shots. The CD is easy to throw, versatile and reliable. Beginner friendly. Very similar to the Innova SL.
Speed 10, Glide 5, Turn -1, Fade 2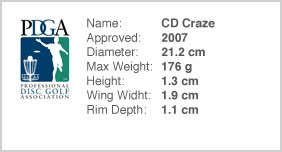 | AVAILABILITY | STABILITY | WEIGHTS |
| --- | --- | --- |
| P-Line | Straight | 165-175g |
| S-Line | Straight | 150-175g |
What other have said about it:
"Over the past few weeks my S-Line Craze has become my go-to driver without a doubt whenever I'm in the woods or need a shot between a mid and long bomb. It feels great in my hand and seems to release really smoothly. When I need a bit more juice than my Fiend, I go for my Craze."

"...Reminds me of Discraft's Avenger in flight pattern but much more versatile and easier to control. GREAT DISC!!"

"...I have 2 in my bag for smooth anhyzer shots and another one for rollers (pretty worn out). Couldn't cope anymore without this disc!"