The Discmania S-Line GM Gremlin (Greater Mid-range) is an overstable mid range driver. It is unique in that it actually falls between a mid range and fairway driver. You have seen this disc before as it was a staple in the Innova line for many years. Discmania added this disc golf driver to their line up as they felt it was a great fit for their product line.
It is a great choice for approaches, short drives, for beginners, advanced and pro players alike.
Speed 5, Glide 4, Turn 0, Fade 2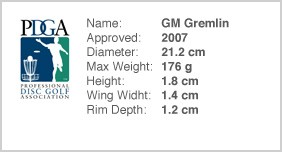 S-Line plastic offers a great grip to durability ratio, wears down gradually for just fine-tuning the flight path of the disc, discs are a bit less overstable than their C-Line counterparts.
About Color and Weight Availability - This model may not be available in all colors. Likewise, each weight range may not be available in all colors. Therefore we ask you to list and prioritize your color preferences and to give us guidance if the color or weight range you want happens to not be available. Feel free to contact us if you need more specific info.
What others have said about it:
"Just picked up the GM because I wanted something shorter than a teebird but with the same kind of flight. Holy cow is this disc exactly what I was looking for. I can throw it hard on holes that I would blow past with my teebird and it sits right at pin high. This disc was definitely a pleasant surprise, awesome work."