The Discmania C-Line MD3 is an overstable mid range driver that is versatile and reliable. The sleek profile is easy to grip even for those who have experienced problems with mid range discs before. Tight and long fairway shots, medium range drives and really long approach shots are not a problem with this disc golf disc.
Speed 5, Glide 5, Turn 0, Fade 3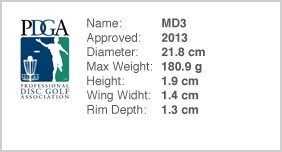 C-Line - most durable plastic, wears down very slowly, good grip, transparent colors, typically the most stable plastic
About Color and Weight Availability - This model may not be available in all colors. Likewise, each weight range may not be available in all colors. Therefore we ask you to list and prioritize your color preferences and to give us guidance if the color or weight range you want happens to not be available. Feel free to contact us if you need more specific info.