The Discmania C-Line FD2 is an overstable fairway driver and is a reliable speed 7 workhorse for all skill levels. Packed with a nice amount of high speed stability, this disc golf driver gives you nice straight lines when thrown flat and hard. The more power you put behind this disc, the straighter lines you will see it perform. When thrown more gently, the fade will kick in earlier in flight making cutting corners easier. It has lower glide to keep you on target and low speed fade you can depend on.
The C-line FD2 is partially a result of the great feedback received from their more experimental 2nd run, the C-line FD. A lot of players seemed to take a liking to the flight path of this "Big Boy FD" that can hold a straight line when thrown hard and flat while still providing a reliable fade at the end of the flight. The FD2 mimics this flight pattern very well with the exception of being a little more reliable in windy conditions thanks to a bit more fade and less glide.
It is a great choice for hyzer drives, S-curves, flicks, for beginners, advanced and pro players alike.
Speed 7, Glide 4, Turn 0, Fade 2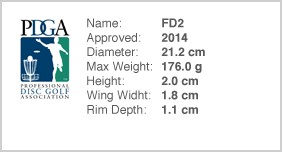 C-line plastic is the most durable and most stable plastic, wears down very slowly, good grip and transparent colors.
About Color and Weight Availability - This model may not be available in all colors. Likewise, each weight range may not be available in all colors. Therefore we ask you to list and prioritize your color preferences and to give us guidance if the color or weight range you want happens to not be available. Feel free to contact us if you need more specific info.