Out Of Stock
Important Information About Disc Selection
Please note that the disc pictured may not be the disc you receive. The exact run and stamp design may vary. We do our best to accommodate your disc selection based on the information you provide. Thank you!
Discmania FD - C Line
The Discmania C Line FD (Previously called Jackal) is a stable fairway driver, the first true fairway driver for Discmania. The Jackal is a controllable low-speed driver, described to have the flight pattern of a seasoned TeeBird. Its best feature is its predictability. Packed with tremendous glide (rated at 6), it can also be sneaky long if thrown accordingly. Possibly the longest measured throw with the FD Jackal is 174m / 571ft. Not bad for a Fairway Driver! The Jackal disc golf driver is at its best when you need to make an accurate drive and land smoothly on the fairway.
Speed 7, Glide 6, Turn -1, Fade 1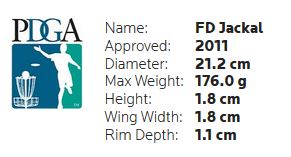 C-line plastic is the most durable and most stable plastic, wears down very slowly, good grip and transparent colors.
About Color and Weight Availability - This model may not be available in all colors. Likewise, each weight range may not be available in all colors. Therefore we ask you to list and prioritize your color preferences and to give us guidance if the color or weight range you want happens to not be available. Feel free to contact us if you need more specific info.
What others have said:
"The C-line FD is a disc that I would call an all-rounder. It's a super straight fairway driver. It's perfect for straight tunnel shots or anhyzer throws. It has great glide which make long left to right curves possible (RHBH). For beginners and players with less arm speed, the FD will add some effortless distance and it has a nice clean finish. It's a great addition to every player's bag. - European Champion Simon Lizotte
"It is simply the best fairway driver, a truly versatile disc."
"I have the chaos, frenzy, freak, 10 maniacs, a craze, and 2 jackals. The jackal throws a lot like a roadrunner, but just a touch more stable. I can throw it 300 feet without any foot movement… amazing glide. The farther you want to throw it, the more you have to wing it down, but it is reliable as long as you don't try to muscle it." - B
Stock:

Out Of Stock

Model:

Discmania C Line FD

Weight:

0.51lb
Discmania