Discmania P2 - S Line
The Discmania S Line P2 (Previously called Psycho) is a slightly overstable beadless putt and approach disc that is significantly more stable than its older brother the P1. Targeted especially for pro-players, the P2 works great for wrist-putts and fade-in shots inside and outside the circle. Due to its stability the P2 works great for approaches and can even tackle strong headwinds. This disc golf putter is also a very consistent driving putter.
It is a great choice for putting, approaches, drives, and advanced and pro players.
Speed 2, Glide 3, Turn 0, Fade 1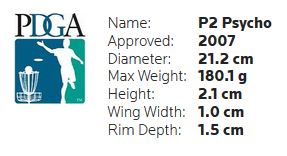 S-Line plastic offers a great grip to durability ratio, wears down gradually for just fine-tuning the flight path of the disc, discs are a bit less overstable than their C-Line counterparts.
About Color and Weight Availability - This model may not be available in all colors. Likewise, each weight range may not be available in all colors. Therefore we ask you to list and prioritize your color preferences and to give us guidance if the color or weight range you want happens to not be available. Feel free to contact us if you need more specific info.
What others have said:
"It's by far the most overstable version of all the plastics available in the P2. A great putter that can various weather conditions and all the torque that a player can litterally throw at it. The P2 is a putter that so versitile that if you only had one disc to use it could be the only disc that you could ever need." - World Champion Avery Jenkins
"...The disc has very little low speed turn but can still handle power for driving without turning over..."

"Excellent disc. The S-line is the straightest putter I have ever thrown. The disc has very little low speed turn but can still handle power for driving without turning over. The D- line is great for long putts and the wind has very little effect on it. The P2 is a beadless putter lovers dream come true." - BL
Stock:

In Stock

Model:

Discmania S Line P2 Psycho

Weight:

0.51lb

SKU:

$17.99
Discmania