Out Of Stock
Important Information About Disc Selection
Please note that the disc pictured may not be the disc you receive. The exact run and stamp design may vary. We do our best to accommodate your disc selection based on the information you provide. Thank you!
Discmania DD2 - S Line
The Discmania S Line DD2 (Previously called Frenzy) is a stable distance driver. This disc golf driver is the second distance driver in Discmania's line up and offers tremendous speed combined with good glide and great control! It is a hybrid of Innova's Katana and Boss. You get the best of both in the DD2!
Speed 13, Glide 5, Turn -2, Fade 2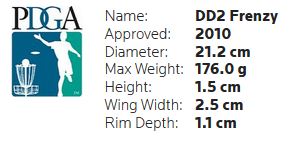 S-Line plastic offers a great grip to durability ratio, wears down gradually for just fine-tuning the flight path of the disc, discs are a bit less overstable than their C-Line counterparts.
About Color and Weight Availability - This model may not be available in all colors. Likewise, each weight range may not be available in all colors. Therefore we ask you to list and prioritize your color preferences and to give us guidance if the color or weight range you want happens to not be available. Feel free to contact us if you need more specific info.
What others have said:
"The DD2 is fast, very fast. Strong players with good armspeed will be able to make this disc flip. Thrown on a hyzer angle it will flip right up and turn over and give you maximum distance on your shot. It`s also great for rollers and especially huge skyrollers." - European Champion Simon Lizotte
Stock:

Out Of Stock

Model:

Discmania S Line DD2

Weight:

0.51lb
Discmania