Out Of Stock
Discmania MD2 - S Line
The Discmania S Line MD2 (Previously called Fiend) is an overstable mid range driver. Straight flying, stable, quick and accurate, the MD2 will hold whatever line you put on it. Great for tight and long fairway shots, medium range drives and really long approach shots. The rim feels great, configured for a smooth and controlled release every time. It's a very versatile disc golf driver for recreational as well as touring pro disc golfers.
It is a great choice for approaches in all angles, straight drives, for beginners, advanced and pro players alike.
Speed 4, Glide 5, Turn 0, Fade 2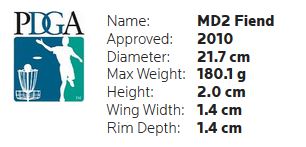 S-Line plastic offers a great grip to durability ratio, wears down gradually for just fine-tuning the flight path of the disc, discs are a bit less overstable than their C-Line counterparts.
About Color and Weight Availability - This model may not be available in all colors. Likewise, each weight range may not be available in all colors. Therefore we ask you to list and prioritize your color preferences and to give us guidance if the color or weight range you want happens to not be available. Feel free to contact us if you need more specific info.
What others have said:
"The S-Line pastic on the MD2 feels really nice and makes a firm grip easier in tricky weather conditions. The MD2 is a super straight flying midrange disc. Thrown softly it will hold a straight line and finish on a smooth left fade (RHBH). Thrown with a lot of strength this disc will hold it's line with amazing consistancy." - European Champion Simon Lizotte
"I have 178 gram MD2 in C-Line plastic as my primary approach disc because of the simple reason that it handles predictably in almost all conditions when throwing a straight or hyzer line. Longer anhyzers tend to straighten a bit too early and monstrous headwinds may flip a straight shot if I get a bit too careless especially when it has been beaten in. I haven't found a better disc when I need to cover about 30-70 meters distance which makes it an ideal disc for shorter drivers in addition to approaches." - Jukka
Stock:

Out Of Stock

Model:

Discmania S Line MD2

Weight:

0.51lb

SKU:

$17.99
Discmania