Out Of Stock
Discmania CD3 - S Line
The Discmania S Line CD3 is an overstable control distance driver. The long awaited CD3 offers a new level of control. You will find yourself reaching for it again and again. This disc golf driver is great for long tunnel shots, huge turnovers, gentle hyzers, and gives a soft finish on every throw. Used as a roller, some players gain extra distance. You'll be amazed with how easy the CD3 is to throw consistently. It is great for beginning players and advanced golfers alike. Think of your favorite CD2 and sprinkle in some added speed, glide, and a little bit of turn and you have yourself a CD3. Pair this with an FD and CD2 and you will be set.
It is a great choice for long controlled drives, maximum distance drives, and advanced and pro players.
Speed 11, Glide 5, Turn -1, Fade 2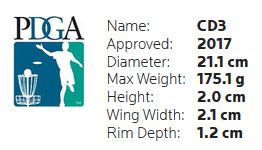 S-Line plastic offers a great grip to durability ratio, wears down gradually for just fine-tuning the flight path of the disc, discs are a bit less overstable than their C-Line counterparts.
About Color and Weight Availability - This model may not be available in all colors. Likewise, each weight range may not be available in all colors. Therefore we ask you to list and prioritize your color preferences and to give us guidance if the color or weight range you want happens to not be available. Feel free to contact us if you need more specific info.
Stock:

Out Of Stock

Model:

Discmania S Line CD3

Weight:

0.51lb

SKU:

$17.99
Discmania