Out Of Stock
Important Information About Disc Selection
Please note that the disc pictured may not be the disc you receive. The exact run and stamp design may vary. We do our best to accommodate your disc selection based on the information you provide. Thank you!
Discmania P1 - D Line
The Discmania D Line P1 (Previously called Maniac) is a stable putt and approach disc. The P1 flight characteristic is very straight at high and low speeds. It is very soft and rubbery. This is one true flying disc golf putter that is also great for approach shots. Beginner friendly.
It is a great choice for putting, approaches, for beginners, advanced and pro players alike.
Speed 2, Glide 3, Turn 0, Fade 0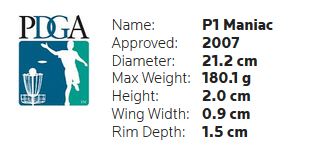 D-Line - lots of grip even in wet conditions, affordable plastic, soft but firm feel - ideal for putters. Limited availability - Most models available only in Europe.
What others have said:
"I cant say enough about the maniac.. I used to throw Innova Dart.. but decided to go softer and get the Maniac and im glad I did.. 169g I can hit 45ft no issues at all now flight is great and so is the line… also use a 175g for downhill or windy.. love them both and who cant love the stamp" - R

"I have had the P-1 maniac for about 3 weeks now. I have played it in the rain.snow, and high wind. the disc weight is 170 grams. I have used it for my long approaches of more that 12 feet to 100 feet. Great true flight with a slight fade to the left at the end. I have thrown more birdies with this disc than any other. Rain play, This disc just wipe the mud off and throw. It is a never slip (here in Oregon USA lot's of rain). Freezing temps P-1 stayed soft. No hand warmer need to keep it soft. This disc will stay in my bag forever, and if I ever ware it out (which I doubt) I will be getting another to replace it." SM
Stock:

Out Of Stock

Model:

Discmania D Line P1 Maniac

Weight:

0.51lb
Discmania