Out Of Stock
Important Information About Disc Selection
Please note that the disc pictured may not be the disc you receive. The exact run and stamp design may vary. We do our best to accommodate your disc selection based on the information you provide. Thank you!
Discmania MD4 - C Line
The Discmania C Line MD4 is an overstable mid range driver and brother of the MD3. This disc golf driver has a blunt nose with that standard MD3 micro-bead giving it a familiar feel in the hand. Not only is the MD4 overstable, but it also has a surprising amount of glide, allowing your shots to fade more while still maintaining predictability. Whether you're facing a stiff wind, looking for a controlled hyzer line, or throwing a nice touch sidearm, the MD4 has you covered. Discmania finds this disc to be much more versatile than most other overstable mid-ranges on the market due to the mix of stability and glide.
It is a great choice for approaches, hyzer drives, flicks, for advanced and pro players.
Speed 5, Glide 4, Turn 0, Fade 3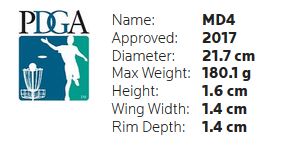 C-line plastic is the most durable and most stable plastic, wears down very slowly, good grip and transparent colors.
About Color and Weight Availability - This model may not be available in all colors. Likewise, each weight range may not be available in all colors. Therefore we ask you to list and prioritize your color preferences and to give us guidance if the color or weight range you want happens to not be available. Feel free to contact us if you need more specific info.
Stock:

Out Of Stock

Model:

Discmania C Line MD4

Weight:

0.51lb
Discmania