Out Of Stock
Important Information About Disc Selection
Please note that the disc pictured may not be the disc you receive. The exact run and stamp design may vary. We do our best to accommodate your disc selection based on the information you provide. Thank you!
Discmania FD3 - C Line
The Discmania C Line FD3 is an overstable fairway driver that can be appreciated and trusted in all conditions. It is Discmania's most stable fairway driver. The FD3 features an aerodynamic low profile and a very comfortable concave lower rim. It has flight numbers very close to the PD (Power Driver) except with a speed of 9. This disc golf driver can be used for everything from touch sidearms that get you out of trouble to full power drives off the tee.
It can be used as a utility driver for specific conditions like strong headwinds and cutting tight corners. Players with more arm speed can expect a straight line for a longer time before the inevitable fade. Skilled players will be able to do tricky throws such as skip shots, upside-down shots, and flex shots. The FD3 is especially useful in windy conditions.
It is a great choice for beginners and advanced players, headwind drives, hyzer shots, flex shots.
Speed 9, Glide 4, Turn 0, Fade 3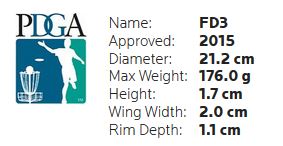 C-line plastic is the most durable and most stable plastic, wears down very slowly, good grip and transparent colors.
About Color and Weight Availability - This model may not be available in all colors. Likewise, each weight range may not be available in all colors. Therefore we ask you to list and prioritize your color preferences and to give us guidance if the color or weight range you want happens to not be available. Feel free to contact us if you need more specific info.
Stock:

Out Of Stock

Model:

Discmania C Line FD3

Weight:

0.51lb
Discmania