Out Of Stock
Important Information About Disc Selection
Please note that the disc pictured may not be the disc you receive. The exact run and stamp design may vary. We do our best to accommodate your disc selection based on the information you provide. Thank you!
Discmania FD2 - C Line (2019 Retool)
The Discmania C Line FD2 (2019 Retool) is a stable fairway driver and a reliable speed 7 workhorse for all skill levels. It has a comfortable feel for all hand sizes and gives a consistent grip on the flight plate. Great for all weather conditions, the new FD2 has a dependable straight flight with a solid fade for finish. The stability of this disc golf driver allows for a full flight when thrown at max power while still allowing players to get creative with a variety of other shots by adjusting the speed and angle. The new, flatter FD2 is reliable on the calmest days and in the roaring wind. It is more dependable and has more glide than the 2018 version.
It is a great choice for hyzer drives, S-curves, flicks, for beginners, advanced and pro players alike.
Speed 7, Glide 4, Turn 0, Fade 2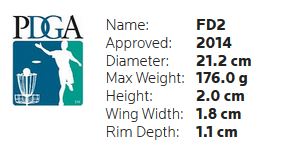 C-line plastic is the most durable and most stable plastic, wears down very slowly, good grip and transparent colors.
About Color and Weight Availability - This model may not be available in all colors. Likewise, each weight range may not be available in all colors. Therefore we ask you to list and prioritize your color preferences and to give us guidance if the color or weight range you want happens to not be available. Feel free to contact us if you need more specific info.
Stock:

Out Of Stock

Model:

Discmania C Line FD2 - 2019 Retool

Weight:

0.51lb
Discmania