Discmania PD (Freak) - C Line Color Glow - Avery Jenkins Dark Maul II
This is the Discmania C Line Color Glow PD - Avery Jenkins Dark Maul II. Avery Jenkins is known as the 2009 Disc World Champion and one of the top ambassadors of the sport across the globe. Avery is a veteran of Team Discmania and one of his favorite Discmania molds has always been the PD.

The Discmania C Line PD (Freak) is an overstable distance driver, power driver which is very resistant to the wind. The PD has good glide and is useful for sidearms, stable powershots, and long flex shots for experienced players. This disc golf driver offers longer and straighter shots with a reliable low speed fade.
It is a great choice for long drives, controlled drives, flicks, and advanced and pro players.
Speed 10, Glide 4, Turn 0, Fade 3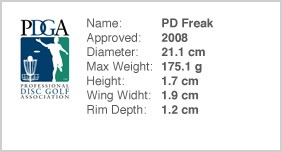 C-line plastic is the most durable and most stable plastic, wears down very slowly, good grip and transparent colors.
Color Glow comes in bright colorful shades for the day and glows at night.
About Color and Weight Availability - This model may not be available in all colors. Likewise, each weight range may not be available in all colors. Therefore we ask you to list and prioritize your color preferences and to give us guidance if the color or weight range you want happens to not be available. Feel free to contact us if you need more specific info.
What others have said:
"...It gets great distance without having to use a super wide rim, easy to power down, and more importantly easy to control...."
"I found one of these in the ditch the other day. I had never thrown a discmania disc before. I gave it a huck and was pleasantly surprised. I mainly throw Innova discs and was noticed the freak throws similarly to the innova star orc. The freak was slightly less stable than the orc in all the right ways. This disc went a lot further than I thought it would, a lot. If you like throwing an Innova Orc, get this disc and add 20 feet to your shot."
Stock:

In Stock

Model:

Discmania LE Color Glow C Line PD - Avery Jenkins Dark Maul II

Weight:

0.51lb

SKU:

$21.99
Discmania