The Discmania G-Line FD Jackal is a straight fairway driver, the first true fairway driver for Discmania. This disc golf disc is a controllable low-speed driver, described to have the flight pattern of a seasoned TeeBird. Its best feature is its predictability. Packed with tremendous glide (rated at 6), it can also be sneaky long if thrown accordingly. The longest measured throw with the FD Jackal is currently at 174m / 571ft. Not bad for a Fairway Driver! The Jackal is at its best when you need to make an accurate drive and land smoothly on the fairway. Available in S-line worldwide and in D-line across Europe. C-line FD's are reserved for fundraising.
Speed 7, Glide 6, Turn -1, Fade 1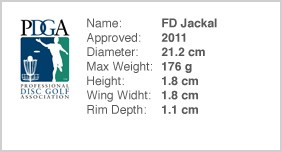 G-Line plastic is very grippy and gummy with more flexibility and a pearlescent appearance making each disc look unique.
About Color and Weight Availability - This model may not be available in all colors. Likewise, each weight range may not be available in all colors. Therefore we ask you to list and prioritize your color preferences and to give us guidance if the color or weight range you want happens to not be available. Feel free to contact us if you need more specific info.
What other have said about it:
"It is simply the best fairway driver, a truly versatile disc."
"I have the chaos, frenzy, freak, 10 maniacs, a craze, and 2 jackals. the jackal is very throws a lot like a roadrunner, but just a touch more stable. I can throw it 300 feet without any foot movement… amazing glide. the farther you want to throw it, the more you have to wing it down, but it is reliable as long as you don't try to muscle it." - B