Discmania P2 (Psycho) - X Line
The Discmania X Line P2 (Psycho) is a slightly overstable beadless putt and approach disc that is significantly more stable than its older brother the P1. Targeted especially for pro-players, the P2 works great for wrist-putts and fade-in shots inside and outside the circle. Due to its stability the P2 works great for approaches and can even tackle strong headwinds. This disc golf putter is also a very consistent driving putter.
Speed 2, Glide 3, Turn 0, Fade 1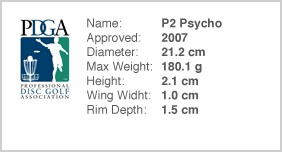 X-Line - An extra grippy blend of plastic, awesome in all weather conditions, stays true when it's cold and wet outdoors, for year-round disc golf.
About Color and Weight Availability - This model may not be available in all colors. Likewise, each weight range may not be available in all colors. Therefore we ask you to list and prioritize your color preferences and to give us guidance if the color or weight range you want happens to not be available. Feel free to contact us if you need more specific info.
What others have said about it:
"...The disc has very little low speed turn but can still handle power for driving without turning over..."

"Excellent disc. The S-line is the straightest putter I have ever thrown. The disc has very little low speed turn but can still handle power for driving without turning over. The D- line is great for long putts and the wind has very little effect on it. The P2 is a beadless putter lovers dream come true." - BL
Stock:

In Stock

Model:

Discmania X Line P2 Psycho

Weight:

0.51lb

SKU:

$14.99
Discmania