Out Of Stock
Important Information About Disc Selection
Please note that the disc pictured may not be the disc you receive. The exact run and stamp design may vary. We do our best to accommodate your disc selection based on the information you provide. Thank you!
Discmania TDx - S Line
The Discmania S Line TDx is an understable turning distance driver. It is an incredibly versatile disc as it offers easy, controllable distance while handling quite a bit of snap and power at the same time. It's great for all players. The TDx thrives with tailwind shots and anhyzer/turnovers thanks to its natural turn and glide. It can also be trusted to handle dead straight lines with a smooth fade at the end of every flight. The TDx with a Glide rating of 5, has an amazing carry that will keep it in the air for a long time. Although it is not meant for strong headwinds, this disc golf driver is great for almost every shot you can imagine.
Lower weights will naturally make the disc a bit less overstable and easier to throw for some players. We recommend that beginners select discs in the 160-170 range to achieve maximum distance and performance.
It is a great choice for straight and long drives and turnovers, rollers, for beginners, advanced and pro players alike.
Speed 9, Glide 5, Turn -3, Fade 1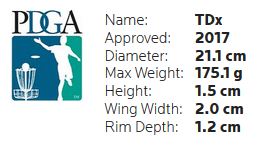 S-line plastic has excellent grip in all weather conditions, great durability, ages well which means its flight behavior won't change drastically as it breaks in.
About Color and Weight Availability - This model may not be available in all colors. Likewise, each weight range may not be available in all colors. Therefore we ask you to list and prioritize your color preferences and to give us guidance if the color or weight range you want happens to not be available. Feel free to contact us if you need more specific info.
Stock:

Out Of Stock

Model:

Discmania S Line TDx

Weight:

0.51lb

SKU:

$17.99
Discmania