Discmania PD (Freak) - S Line Swirly - Lone Howl - Colten Montgomery Signature Series
The Discmania S Line Swirl PD2 - Lone Howl is a Colten Montgomery Signature Series disc. Colten throws the PD farther than most people can throw DD3s.
A portion of each sale goes directly to Colten Montgomery.

The Discmania S Line PD (Freak) is an overstable distance driver, a power driver which is very resistant to the wind. The PD has good glide and is useful for sidearms, stable powershots, and long flex shots for experienced players. This disc golf driver offers longer and straighter shots with a reliable low speed fade.
Speed 10, Glide 4, Turn 0, Fade 3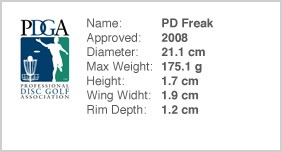 S-Line plastic offers a great grip to durability ratio, wears down gradually for just fine-tuning the flight path of the disc, discs are a bit less overstable than their C-Line counterparts.
About Color and Weight Availability - This model may not be available in all colors. Likewise, each weight range may not be available in all colors. Therefore we ask you to list and prioritize your color preferences and to give us guidance if the color or weight range you want happens to not be available. Feel free to contact us if you need more specific info.
What others have said about it:"...It gets great distance without having to use a super wide rim, easy to power down, and more importantly easy to control...."
"I found one of these in the ditch the other day. I had never thrown a discmania disc before. I gave it a huck and was pleasantly surprised. I mainly throw Innova discs and was noticed the freak throws similarly to the innova star orc. The freak was slightly less stable than the orc in all the right ways. This disc went a lot further than I thought it would, a lot. If you like throwing an Innova Orc, get this disc and add 20 feet to your shot."
Stock:

In Stock

Model:

Discmania SE S Line Swirly PD - Colten Montgomery - Lone Howl

Weight:

0.51lb

SKU:

$20.99
Discmania