Discmania CD2 - S Line Swirl - Roaming Thunder 2 - Dana Vicich Signature Series
This is the Discmania S Line Swirl CD2 - Roaming Thunder 2 - Dana Vicich Signature Series. The 2019 Roaming Thunder II offers much more glide and straight flight when compared to the 2018 Roaming Thunder.
A portion of each sale goes directly to Dana Vicich.
The Discmania S Line CD2 (Previously called Craze) is a stable control distance driver. The CD2 is a close relative of not only the CD, but also the PD. New out of the box, the CD2 will fly like a seasoned PD, being able to fight headwinds and have a reliable fade. Less powerful players will find this disc golf driver to be very overstable, while more seasoned players will find more versatile.
It is a great choice for controlled drives, straight shots, turnovers, maximum distance drives, and all skill levels.
Speed 9, Glide 5, Turn -1, Fade 2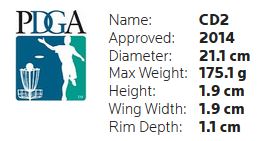 S-Line plastic offers a great grip to durability ratio, wears down gradually for just fine-tuning the flight path of the disc, discs are a bit less overstable than their C-Line counterparts.
About Color and Weight Availability - This model may not be available in all colors. Likewise, each weight range may not be available in all colors. Therefore we ask you to list and prioritize your color preferences and to give us guidance if the color or weight range you want happens to not be available. Feel free to contact us if you need more specific info.
Stock:

In Stock

Model:

Discmania LE S Line Swirl CD2 - Roaming Thunder 2 - Dana Vicich

Weight:

0.51lb

SKU:

$22.99
Discmania