Discmania PD2 (Chaos) - S Line Bottom Stamp Swirl - Eagle McMahon Triumph Series
This Discmania S Line Bottom Stamp Swirl PD2 is an Eagle McMahon Triumph Series disc. Discmania has been busy keeping The Year of the Shield alive and well. Meanwhile their Sponsored Team members have been putting the pressure on and keeping the competition fierce out on the course all year long. Discmania is offering a way to celebrate Team Discmania's biggest achievements this year with the addition of the Triumph Series. The Triumph Series features a specialty bottom stamp commemorating all our team members have accomplished. These bottom stamps will be run on some of your favorite specialty molds and be available for a limited time so make sure you complete your collection before they're gone!
Eagle Mcmahon National Tour: Eagle has been tearing up competitors and courses all year long and triumphantly took his place as best in the nation with a first place finish in The National Tour. Eagle's commemorative stamp will be proudly displayed on the always reliable S-Line PD2.
The Discmania S Line PD2 (Chaos) is an overstable long range driver. PD2 is another name for it as it is the 2nd power driver in their line of discs. The PD2 Chaos is like an Innova XCaliber with a little more speed and stability. It is abnormally fast for the stability it offers, especially on windy days. Targeted for the strong-armed touring pro, this disc golf driver is very reliable thrown backhand, forehand and overhead in pretty much all conditions.
Speed 12, Glide 4, Turn 0, Fade 4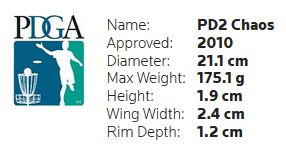 S-Line plastic offers a great grip to durability ratio, wears down gradually for just fine-tuning the flight path of the disc, discs are a bit less overstable than their C-Line counterparts.
About Color and Weight Availability - This model may not be available in all colors. Likewise, each weight range may not be available in all colors. Therefore we ask you to list and prioritize your color preferences and to give us guidance if the color or weight range you want happens to not be available. Feel free to contact us if you need more specific info.
What others have said:
"This is a great disc. Fast!, with a nice overstable fade at lower speeds. Doesn't seem to want to flip when thrown hard and flat, and carries straight until low speed.
"It is a very fast overstable long range driver and it's also fantastic in the wind and great for forehand shots. It's got a lower nose profile than the very comparable Innova XCaliber (due to Discmania's custom top), so it seems to cut through the air a lot more than the Innova Max with the same stability."
"This is a professional golf disc that can handle lots of power and torque from harder throwers, I really think that a lot of people will enjoy this disc."
Stock:

In Stock

Model:

Discmania LE S Line Swirl Bottom Stamp PD2 - McMahon Triumph Ser

Weight:

0.51lb

SKU:

$22.99
Discmania