Out Of Stock
Discmania P1x - D Line
The Discmania D Line P1x is a stable beaded putt & approach disc. Thanks to high demand for a beaded putter, the P1x was created purely with player feel in mind. The result is a very ergonomic design. Its convex lower wing and the classic P1x top make this disc golf putter very comfortable in the hand, like it belongs there. The X-Factor of the P1x is its medium sized bead along the bottom rim of the disc. This bead just fits in the hand much better than most other beaded putters. The P1x has different flight ratings, depending on the plastic material.
It is a great choice for putting, approaches, straight drives, for beginners, advanced and pro players alike.
Speed 2, Glide 3, Turn 0, Fade 0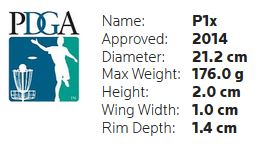 D-Line - lots of grip even in wet conditions, affordable plastic, soft but firm feel - ideal for putters. Limited availability - Most models available only in Europe.
Stock:

Out Of Stock

Model:

Discmania D Line P1x

Weight:

0.51lb
Discmania