Discmania MD3 - C Line Glow Metal Flake - Iron Samurai - Eagle McMahon Signature Series
This is the Eagle McMahon's Signature C-line Glow Metal Flake MD3 Iron Samurai.
Available weights are 178-180 only.
The Discmania C-Line MD3 is an overstable mid range driver that is versatile and reliable. The sleek profile is easy to grip even for those who have experienced problems with mid range discs before. Tight and long fairway shots, medium range drives and really long approach shots are not a problem with this disc golf driver. The MD3 is perfect for those who are looking for their mid-range to hold hyzers, anhyzers, and straight shots with a small fade at the end of its flight.
In July 2017 the flight numbers were corrected to:
Speed 5, Glide 5, Turn 0, Fade 2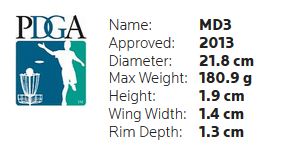 C-Line - most durable plastic, wears down very slowly, good grip, transparent colors, typically the most stable plastic
About Color and Weight Availability - This model may not be available in all colors. Likewise, each weight range may not be available in all colors. Therefore we ask you to list and prioritize your color preferences and to give us guidance if the color or weight range you want happens to not be available. Feel free to contact us if you need more specific info.
What others have said:
"The MD3 is somewhat comparable to the MD2 by it's feel in the hand, but that is where the comparison ends. The MD3 is more overstable, which makes it great for headwind shots and good for any kind of hyzer throws because of its reliable fade at the end of the flight. At max weight this disc is a great choice for players who throw harder and have faster arm speeds. The MD3 is a perfect addition for every player's bag." - Simon Lizotte
Stock:

In Stock

Model:

Discmania SE C Line Glow MF MD3 - McMahon - Iron Samurai

Weight:

0.51lb

SKU:

$24.99
Discmania