The Discmania D-Line P3 is an overstable putt and approach disc that is fast and very torque resistant. It has a lower profile than normal disc golf putters and can be used as a mid-range too. It is a stable disc disc golf disc with predictable fade at the end. A hybrid between a putter and mid-range, the P3's best weapon is its versatility. It's an awesome flyer off the tee and a great tool for putting. For the fans of fade-in putters out there, this disc is a must try.
Speed 3, Glide 2, Turn 0, Fade 3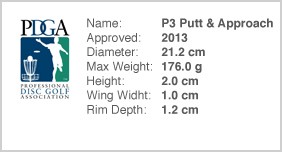 D-Line - lots of grip even in wet conditions, most affordable plastic, soft but firm feel - ideal for putters. Limited availability - Most models available only in Europe.
About Color and Weight Availability - This model may not be available in all colors. Likewise, each weight range may not be available in all colors. Therefore we ask you to list and prioritize your color preferences and to give us guidance if the color or weight range you want happens to not be available. Feel free to contact us if you need more specific info.