Out Of Stock
Important Information About Disc Selection
Please note that the disc pictured may not be the disc you receive. The exact run and stamp design may vary. We do our best to accommodate your disc selection based on the information you provide. Thank you!
Discmania TD - C Line
The Discmania C Line TD (Previously called Rush) is an understable turning distance driver. TD stands for turning driver. This is an easy-to-throw disc suitable from beginners to top level pros. This speed 10 disc golf driver has a comfortable smaller rim grip that offers a lot of glide with a very straight flight path. If you're looking for a disc that flies faster than Innova's Roadrunner but still offers some of the best glide, then this Turning Driver is your choice! The main difference between the Roadrunner and Rush is that you do not need to flex this disc in order to make use of the big glide that it offers. When thrown with the right amount of force, this disc just keeps on going straight - almost like floating in the air! Beginner friendly.
It is a great choice for straight and long drives and turnovers, rollers, for beginners, advanced and pro players alike.
Speed 10, Glide 5, Turn -2, Fade 1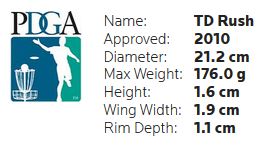 C-line plastic is the most durable and most stable plastic, wears down very slowly, good grip and transparent colors.
About Color and Weight Availability - This model may not be available in all colors. Likewise, each weight range may not be available in all colors. Therefore we ask you to list and prioritize your color preferences and to give us guidance if the color or weight range you want happens to not be available. Feel free to contact us if you need more specific info.
What others have said:
"...It has a long, swooping turnover glide for me. I have used it on a lot of roller shots and has been pretty successful."
"For me being a lefty and alot of courses are set up for right handers it tough this disc has helped me for my big turnovers and long turning drives. Also it makes a great roller too."
Stock:

Out Of Stock

Model:

Discmania C Line TD Rush

Weight:

0.51lb

SKU:

$16.99
Discmania