Out Of Stock
Important Information About Disc Selection
Please note that the disc pictured may not be the disc you receive. The exact run and stamp design may vary. We do our best to accommodate your disc selection based on the information you provide. Thank you!
Discmania P3X - C Line
The Discmania C Line P3X is an overstable driving putter, with a capital D! It is a true workhorse similar to the P2. For players who love the P2 but find it too deep to latch on to, the P3x should work for you. It features a large bead on the bottom, a very flat profile, and a slightly smaller interior rim to ensure a clean release every time.
This disc golf putter is an excellent choice for those who don't normally feel comfortable using putters for drives and approach shots.
It is great for windy days, smooth reliable upshots, big hyzers or power forehand/backhand throws that travel on a straight line with a clean fade you can count on.
Speed 3, Glide 2, Turn 0, Fade 3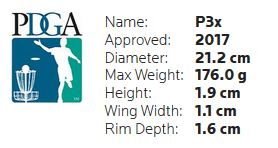 C-line plastic is the most durable and most stable plastic, wears down very slowly, good grip and transparent colors.
Stock:

Out Of Stock

Model:

Discmania C Line P3X

Weight:

0.51lb
Discmania