The Discmania C-Line FD3 is an overstable fairway driver that can be appreciated and trusted in all conditions.The FD3 features an aerodynamic low profile and a very comfortable concave lower rim. It was initially release in vibrant C-line material that endures wear very well and provides an awesome grip. Despite having flight numbers very close to the PD (Power Driver), the FD3 offers a noticeably more overstable flight pattern. This disc golf disc can be used for everything from touch sidearms that get you out of trouble to full power drives off the tee. You can always rely on FD3's long but powerful and forward-penetrating fade.
Speed 9, Glide 4, Turn 0, Fade 3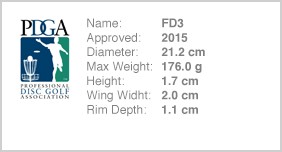 C-Line - most durable plastic, wears down very slowly, good grip, transparent colors, typically the most stable plastic
About Color and Weight Availability - This model may not be available in all colors. Likewise, each weight range may not be available in all colors. Therefore we ask you to list and prioritize your color preferences and to give us guidance if the color or weight range you want happens to not be available. Feel free to contact us if you need more specific info.
What others have said about it:
"It is simply the best fairway driver, a truly versatile disc."
"I have the chaos, frenzy, freak, 10 maniacs, a craze, and 2 jackals. the jackal is very throws a lot like a roadrunner, but just a touch more stable. I can throw it 300 feet without any foot movement… amazing glide. the farther you want to throw it, the more you have to wing it down, but it is reliable as long as you don't try to muscle it." - B