Mid range drivers are thicker than fairway and distance drivers. Their profiles are less sharp. These Innova mid range drivers are Speed 4 - 5. They don't fly as fast or as far and they are easier to control than Speed 6 - 13 fairway and distance drivers. They make great multi-purpose discs meaning a player can play the entire course with just one disc.
Innova Mid Range Drivers are designed to provide accuracy and control for mid range shots, approaches and short drives. They are versatile and dependable from fairway to chains. Innova's wide assortment of mid range drivers match the needs of a wide range of players using a variety of throwing techniques. The Roc is the mid range choice for many professional players.
Mid Range - Putters - Speed 1-5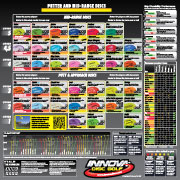 | Flight Paths
| Plastics | Flight Characteristics
If you still have questions or would like some advice, please contact us. We've been in the business since 1987 and throwing even longer. We love what we do!
We offer these ways to narrow your search. Many of the understable to stable discs are great for beginners while the more overstable discs are better for experienced players.