Fairway Drivers are thin discs with sharp edges, but not as thin and sharp as distance drivers. These Innova Fairway Drivers are Speed 6-8. They aren't as fast and don't fly as far as distance drivers, but they are easier to control.
Innova Fairway Drivers are valuable for delivering confidence in both shorter controlled drives and long approach situations. For many players they provide nearly the same distance as distance drivers, but with added control and accuracy. Newer players will find these discs easier to control. Control and consistency will inspire a new level of confidence improving the level of your game.
Drivers - Speed 6-13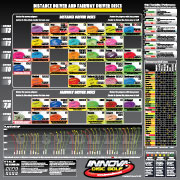 | Flight Paths
| Plastics | Flight Characteristics
If you still have questions or would like some advice, please contact us. We've been in the business since 1987, throwing even longer and we love what we do!
We offer these ways to narrow your search. The understable and stable discs are good for beginners or players with little experience while the more overstable are recommended for players with experience.