DGA offers advice for beginners. They recommend you start out with a controllable mid range like the ProLine Squall and play a couple rounds with just a single disc to really learn what it can do for you. Once you get the feel, the Rogue and Undertow drivers, the Squall mid range (as mentioned) and the Reef putt & approach are all excellent beginner friendly discs. These discs come in RDGA plastic which is less expensive and max out at 150 grams. The lighter the disc the easier it is to throw for beginners and definitely the best choice for kids starting out. The RDGA discs however are not as durable as the ProLine discs and don't have as nice a feel.
We too recommend starting with a lighter weight multi-purpose or mid range driver because they are easier to control than long range drivers. And a lighter weight disc is easier to control than a heavier disc. A lighter disc doesn't have as strong of a tendency to curve left or right.
Once you develop the control and feel for throwing, you can go for more distance and finesse with other mid range and longer range drivers. You can also experiment with heavier discs to find the weight that is right for you. The type of plastic is also something to consider, but we suggest you start with the less expensive discs first.
Consider starting with understable discs which are the most beginner friendly. They have a tendency to turn right when thrown flat, straight and with average power for right handed back hand (RHBH) throws. It's just the opposite for lefties.
Also try stable discs which have a tendency to fly rather straight and basically don't turn when thrown flat, straight and with average power. Many of these are considered beginner friendly. Avoid overstable discs until you gain some experience.
Although these discs are considered beginner friendly, they are used by top pros too.
As you gain confidence and strength, you will want to add more variety including overstable discs to your arsenal.
Read more Beginner Information. Find other useful info on these links: DGA's Flight Chart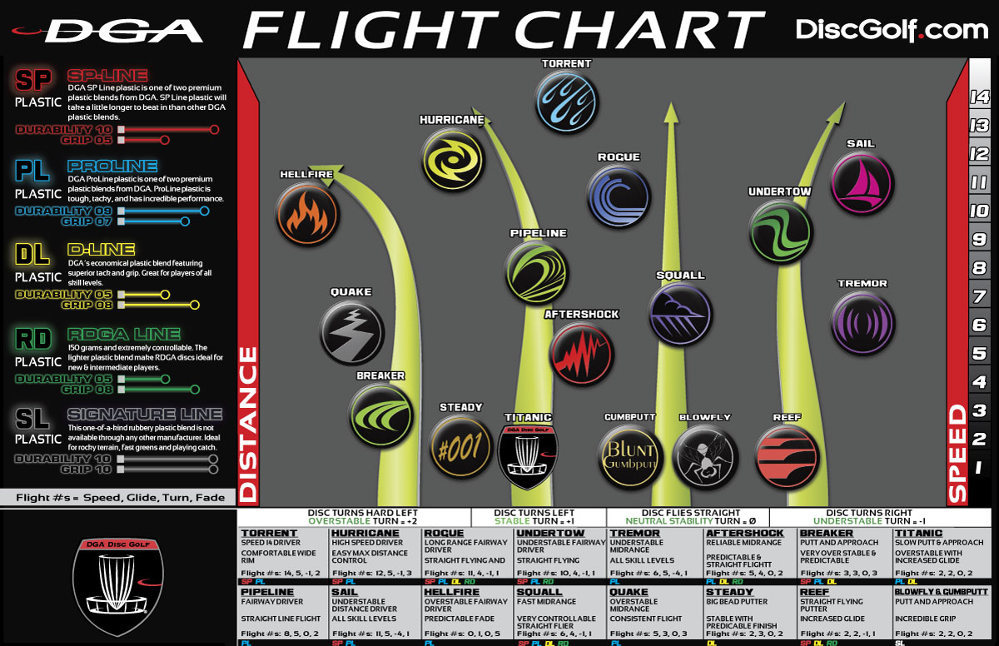 | DGA Plastics.
(Each opens in a new tab and can stay open for reference while you shop.)
If you still have questions about any discs or would like some advice on what types of discs are best for you, please contact us. We've been in the business since 1987, throwing even longer and we love what we do!